Pride- LGBTQ
Workplace diversity has been in vogue for some time, but many companies are still struggling to define what it means for their organization, why it is important, and how to include LGBT+ persons in their talent management strategy.
A well-managed diverse workforce will both reduce costs and generate greater profit, with companies that employ a diverse workforce having 35 percent higher financial returns than national averages.
We help you define diversity and inclusion charter and will collaborate to aid diversity at every step of the implementation process that includes,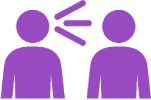 Anti-harassment and antidiscrimination policy consultation.

Compensation and Benefits policy consultation to ensure benefits package is relevant to all employees.

Organization-Wide Diversity Training

Specific diversity and inclusion training for people managers to ensure they fully understand this responsibility and know how to act on it.